I wanted to say
THANK YOU
to a couple of very sweet ladies today.
I was so excited to win two giveaways recently.
Just look at this gorgeous little thing…
yes…
this is just what it looks like.
A special little gift card that brings lots of shopping fun
from the incredibly sweet Miss Val over at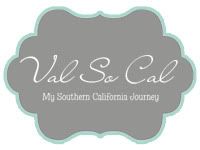 Have you been over to Val's blog?
She has THE most amazing recipes and treats
and such a gorgeous home!
*sigh*
Look at this deliciousness…
(I think I actually drool sometimes when I visit her blog! lol!)
I was waiting until I had shopped to do a post and say thank you
but I haven't made my way in to Anthropologie yet-
Would you believe I have never shopped at Anthropologie ?!
Where have I been!?!
Val is just such a sweetheart 🙂
& she was one of my very first bloggy friends too!
Go by and say hello and tell her I sent you~
(be prepared to salivate over the delicious food! Lol!)
Thanks so much Val!
I also wanted to say a big THANK YOU to the lovely
She sent me a 1 year subscription to Better Homes and Gardens!
The first issue arrived the other day~
and I am already pouring through all the pages!
Frenchy is from France ( as you might have guessed!) and has a beautiful blog filled with all things
family and French-
She has such great style!
Decorating, Fashion, Entertaining and much more.
I love all the French inspirations and lifestyle insights.
She hosts a fun French Obsession linky party and giveaway the first of each month too. Thanks Frenchy!
THANK YOU

SO

MUCH LADIES!
GO BY AND VISIT THESE FABULOUS BLOGS AND GIRLS AND SAY HELLO!