Deep plums,
sparkling grapes and elegant eggplants and aubergines…


Soft sweet shades of lavenders, pale lilacs and old world regal amethyst tones…
How do you feel about purple in your rooms?
Do you love the bold tones or the soft subtle shades?
Do you like it as an accent or as a focal point?
Purple can be inspiring.
 Quietly complimenting. 
Or boldly making a statement.
It is a passionate color either way for sure.


It can move you and excite you with it's rich deep, dark shades covering the walls.
Accented by silver, white and black- it's elegant and so gorgeous.


Or purple can calm you and relax you- wrapping it's warmth around you like it does in this
 lavender room filled with irresistible pale shades and detailed patterns…
(I just have to say that I love that settee in so. many. ways… 
 *sigh*)
What about on a chair, window covering or pillows?
Paired with other bold colors- it gives a space a lot of wow factor.
Or paired with pale creamy whites and grays
 just a drop of it's dazzling color speaks for itself.
 This antique chair speaks to me- LOUDLY.
I
 love the elegant fabric and frame and with the cream- delightful.
 I love light walls with purple drapery and accents
As much as purple is not my first choice for decorating my spaces with 
I have to admit this dining room is knocking my socks off with it's bold dark color 
on the walls and white accents.
 Wow!
My daughter loves purple. 
LOVES it like she wants it covering every surface in her room Loves it.
I have been itching to get into her room and make it over for awhile now
and in my attempt to start getting those projects wrapped up- 
her room makeover is now on deck.
She has morphed from a little girl to a bit more of a glam girl this past year
and she will be heading off to high school next year.. *GULP*
so she wants something more grown up than those PB flower drapes and little girl colors.
She finally agreed to let me do a mini-  
(mind you- just a mini)
makeover in her room but ONLY if it was purple and only if she LIKED what I was doing.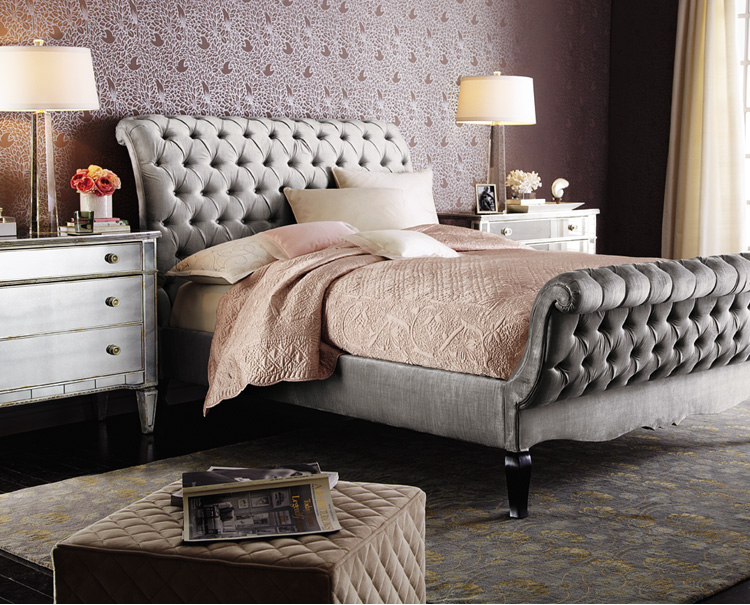 via Horchow
Purple is definitely not one of my usual colors to decorate with
but I am game to play
 with her favorite color and her style. 
Just possibly though….
maybe just possibly 
could I convince her that something
 quiet, soft, and shabby would be perfect in 
her little cottage bedroom?
well with that look she gave me with raised eyebrows and disgust at the thought of that
 I'm thinking it's not likely.
So
 I am off to create a vision board with some purple inspirations for her room 
and I'll share more about my plans for her space soon
TODAY IS THE LAST DAY TO ENTER THE OLIVE-ROUTE LETTERPRESS GIVEAWAY!!
Go  HERE  to enter to win!
See you tomorrow for Feathered Nest Friday!!