Even though I blog about decorating and design~
I must admit that I do have a little fashionista side of me.
You know that side that loves beautiful handbags, gorgeous shoes and that perfect piece of jewelry.
I also love vintage pieces and I am always admiring beautiful dainty beaded handbags,
vintage rhinestone jewelry and vintage glamourous finds when out shopping.
Meet one of my newest sponsors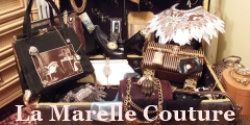 La Marelle Couture
has some of the most amazing and unique one of a kind designs in jewelry,
headbands, hair clips and handbags. Ranging from classic, to Victorian
to more unique fashion forward inspired creations.
Please click over to the next page to enter the giveaway!
These are some of the items available in her shop.
Here's a bit more about her designs
(quoted from her website)
'La Marelle Couture – Luxury Jewelry & Accessories. One of a Kind, Haute Couture Pieces of Wearable Art. Steampunk Pieces, Vintage Couture Statement Jewelry, Unique One of a Kind Purses, Custom Orders and Wedding Accessories like no other. Headpieces, Bridal Necklaces, Jewelry Bouquets and Sashes. Keepsake Treasures all made from high quality vintage materials. No Two are Ever the Same.

InStyle Magazine describes Marelle's work as stunning, of superior quality, haute couture, ahead of our time. Over 95 percent of all items in our accessory line are made from previously loved, vintage treasures. . You don't pick a Marelle piece, it picks you. So be bold, be beautiful, be yourself. Show stopping, head turning, and Avant Garde fabulous. '



'Marelle has done custom work for several celebrities and has been featured in Style magazine, Vogue for the People/U-Closet, Television Show Talk of the Town, Allure Gallery, The Weekender, Bergen Performing Arts Center, Janice Charach Gallery, Kirby Center of Performing Arts, The Forwardian magazine, and formally introduced by none other than Lady Violette, and these are just to name a few.'
La Marelle has generously offered a
$100 gift certificate to giveaway
to her shop to use for whatever you would like.

Perfect for choosing something for yourself, to give as a gift or for using towards
that special one of a kind piece for a wedding or other event.
To be entered to win~
1. Leave a comment on this post
2. For a second chance-
Share La Marelle/Hopscotch Couture and the giveaway
on your blog, facebook or twitter and leave a second comment.
You can also find Hopscotch Couture on FB here too
That's it!!
Good luck!
Winner announced next week!